Is Your Employee Handbook a Ticking Time Bomb?
Reviewing your handbook periodically is always a good idea to be sure it has kept pace with changing laws.


Right now, however, if your employee handbook has not been updated in the past six months or so, it is not only out of date, it may have become a source of liability.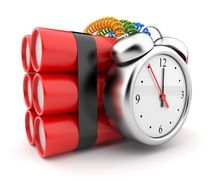 Key Employee Handbook Targets
Here are just a few things you need to be looking at:
Is your at-will employment statement an invitation to a NLRB unfair labor practice charge (ULP)? NLRB rulings have said that, if it is not worded correctly, it can be considered a violation of rights of all employees, union or non-union, under the NLRA.


Does your handbook still contain archaic prohibitions on discussion of pay and benefits? The NLRB long has said this violates Section 7 employee rights to engage in concerted activity regarding terms and conditions of employment. It is pursuing ULP's based on this provision in handbooks.


Do you spell out clear rules prohibiting unauthorized overtime and off-the-clock work? This is fertile ground for wage and hour lawsuits. You still have to pay if these rules are violated, but it should at least be grounds for discipline.
If you are subject to FMLA, has your policy been updated to reflect the rights of same-sex marriage couples to FMLA leave?


Do your FMLA policies contain the correct provisions for time off for employees with relatives in the military? Do you have the most current FMLA forms?


Do your confidentiality, loyalty, no-gossip, civility, or social media policies include language that the NLRB says violates Section 7 employee rights and can land you in a ULP?


This Is Real - Not Theoretical
I recently defended a small employer on ULP's based on several of these employee handbook provisions that the NLRB has declared illegal.


These are not just theoretical problems or ones for large employers in big cities. The battle has moved here!! Defense of a ULP or other legal action based on outdated handbook provisions is a very costly and painful procedure and one to be avoided if at all possible.


I urge you to do a careful review of your employee handbooks sooner rather than later—when the NLRB, DOL, or EEOC is staring down the barrel of its guns at you.
TESTIMONIALS
When my husband passed away, I contacted the attorney that we had used to prepare our wills but was unhappy with his attitude of indifference. I discovered Adair Buckner and all of my issues were resolved. Adair is professional, compassionate, and extremely knowledgeable. She saved me a large amount of money by processing my will in the appropriate manner to best suit my situation.
I needed an attorney I could trust who could handle my legal concerns regarding my mother's Living Trust. Adair Buckner firmly set things right. She was my voice when I had none and knew how to protect me in the midst of negative chaos. I recommend Adair to anyone seeking justice.
It is a great pleasure working with Adair. She is very professional and genuinely concerned about your needs. I have complete faith and trust in Adair and will always work with here for my attorney needs.
Trying to get our LLC changed over after moving to Texas was complicated, but Adair Buckner made the process so simple! We just gave her the details, and she handled everything quickly and professionally. Thank you, Adair, for making this part of our move stress-free!
It was way past time to finally get our Wills completed. This was something that was extremely complicated for us, but Adair and her assistant never made us feel like we were bothering them...and we (I) bothered them...a lot! Things were explained to us in a way that we could understand easily. Extremely professional and knows her stuff!
Adair is our employment attorney at ROI Online. She is an excellent resource to turn to as we grow and add employees. Adair is not only extremely knowledgeable in her area of employment expertise, but she is also very accessible and quickly responds to our questions and requests.
We appreciate Adair Buckner's professional and personable service. Our legal needs were met promptly and succinctly. We would not hesitate (and do!) recommend her to our family and friends.
Adair was very helpful in guiding us through this process of creating our estate planning! She and her assistant were friendly to us each time we met them in their office. I would highly recommend Adair Buckner as an attorney of choice!