Texas Employers How Will You Deal with New Texas Open Carry Law?
Big Decisions Have To Be Made
Do you allow guns in the workplace, or do you not? Employers and HR professionals are caught in the debate and legal consequences between maintaining a safe workplace and allowing employees to possess firearms in the workplace.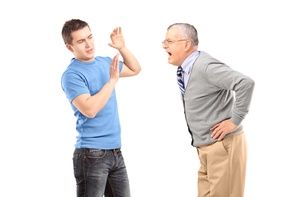 The debate will continue whether allowing weapons in the workplace or not is the better policy for protection of employees and the public. Beginning January 1, 2016, open carry of handguns in Texas will be legal, in general.


Employers will still have the right, however, to restrict weapons in the workplace. But they must take specific steps to exercise that right. If an employer decides that it wants to prohibit open or concealed carry of weapons at work, it should review and revise current policies or adopt new ones as needed. They will also need to prepare and post new signs as of January 1, 2016.


Open Carry in Texas is Coming in 2016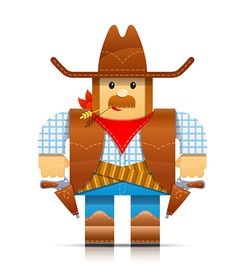 Effective January 1, 2016, in general, licensed handgun owners in Texas may lawfully carry their handguns in an open manner as long as the handgun is secured in a shoulder or belt holster. They also still retain the option of carrying a handgun in a concealed manner if they choose.

However, it will still be illegal to carry a handgun openly in places such as, among others, high schools; collegiate and professional sporting events; correctional facilities; hospitals and nursing homes; amusement parks; churches and synagogues; government buildings; and airports. This may change soon also though. To read more about the confusing and ever changing handgun laws in Texas, see this article.


Most importantly, other Texas employers can prohibit handguns (open-carry or concealed) on most of their premises, subject to certain limitations and conditions. First, under Texas law, employees will continue to have the right to store their firearms and ammunition in a locked, privately-owned vehicle in employer parking lots. They may even leave them in open view there now.


Notices Required To Prohibit Guns In Workplace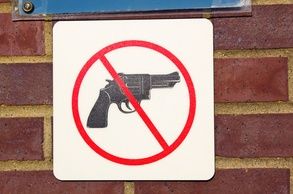 To prohibit handguns (open-carry or concealed) in the rest of the workplace, employers must display specific, statutory notices. Employers may place the notices on cards or other documents or otherwise post signs in English and Spanish, in contrasting colors with block letters at least one inch in height, and display the signs in a conspicuous manner, clearly visible to the public at each entrance to the property. The signs have to display word for word the exact language in the statute:


For Concealed Weapons
"Pursuant to Section 30.06, Penal Code (trespass by license holder with a concealed handgun), a person licensed under Subchapter H, Chapter 411, Government Code (handgun licensing law), may not enter this property with a concealed handgun."


For Open-Carry Weapons
Although it may seem redundant, in order to prohibit open carry in the workplace (other than parking lot) the employer must display a second sign, presumably next to the first sign that says the following:


"Pursuant to Section 30.07, Penal Code (trespass by license holder with an openly carried handgun), a person licensed under Subchapter H, Chapter 411, Government Code (handgun licensing law), may not enter this property with a handgun that is carried openly."


Employers who wish to prohibit the open carrying of handguns should take the following steps:


Prepare and post the statutorily required signs;
Revise, distribute and communicate changes in these policies to employees;
Educate and train your employees and supervisors on the changes.
TESTIMONIALS
When my husband passed away, I contacted the attorney that we had used to prepare our wills but was unhappy with his attitude of indifference. I discovered Adair Buckner and all of my issues were resolved. Adair is professional, compassionate, and extremely knowledgeable. She saved me a large amount of money by processing my will in the appropriate manner to best suit my situation.
I needed an attorney I could trust who could handle my legal concerns regarding my mother's Living Trust. Adair Buckner firmly set things right. She was my voice when I had none and knew how to protect me in the midst of negative chaos. I recommend Adair to anyone seeking justice.
It is a great pleasure working with Adair. She is very professional and genuinely concerned about your needs. I have complete faith and trust in Adair and will always work with here for my attorney needs.
Trying to get our LLC changed over after moving to Texas was complicated, but Adair Buckner made the process so simple! We just gave her the details, and she handled everything quickly and professionally. Thank you, Adair, for making this part of our move stress-free!
It was way past time to finally get our Wills completed. This was something that was extremely complicated for us, but Adair and her assistant never made us feel like we were bothering them...and we (I) bothered them...a lot! Things were explained to us in a way that we could understand easily. Extremely professional and knows her stuff!
Adair is our employment attorney at ROI Online. She is an excellent resource to turn to as we grow and add employees. Adair is not only extremely knowledgeable in her area of employment expertise, but she is also very accessible and quickly responds to our questions and requests.
We appreciate Adair Buckner's professional and personable service. Our legal needs were met promptly and succinctly. We would not hesitate (and do!) recommend her to our family and friends.
Adair was very helpful in guiding us through this process of creating our estate planning! She and her assistant were friendly to us each time we met them in their office. I would highly recommend Adair Buckner as an attorney of choice!