4 Signs You're Working With The Wrong Attorney
When researching potential attorneys for your case, always do your homework.

Choosing an unqualified or dishonest attorney could not only result in a negative outcome for your legal situation, but it could also cost you more money in the long run.
Here are four warning signs that you may have selected the wrong attorney to represent you.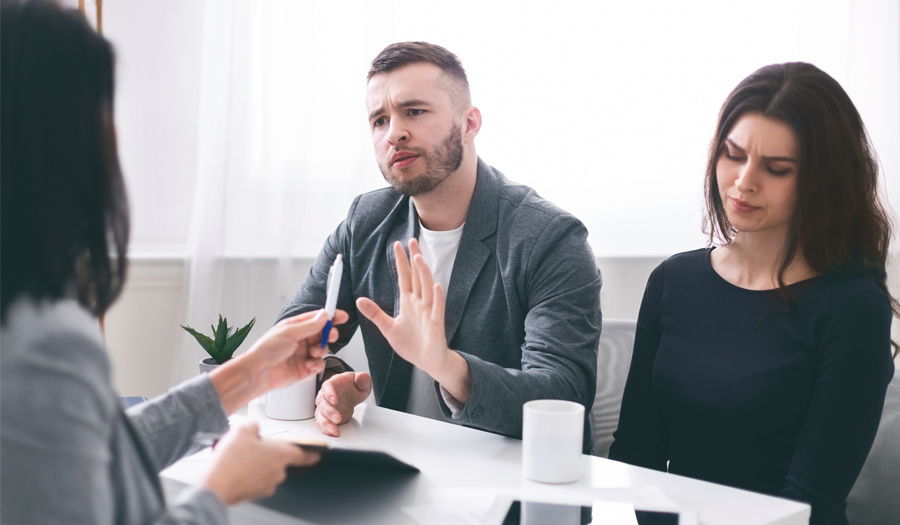 1. Lack of Communication

Communication is key to your successful attorney-client relationship. One of the most frustrating things that can happen during your case is being left in the dark. Unreturned phone calls and unanswered questions can leave you clueless about whether your legal matter is being properly handled or even at all.
Your lawyer should be available to answer your questions and keep you informed of the status of the matter on a consistent basis.

2. Lack of Competence
Unfortunately, a law degree doesn't necessarily equate to competence in a particular matter. An incompetent lawyer could irreparably harm your case and may cost you a great deal of time and money to correct the mistakes. However, not all mistakes can be amended.
The lawyer you choose should stay up-to-date on their certifications and remain active in legal associations. You can check Martindale-Hubbell and the State Bar directory for legal background information, certifications, and peer ratings.

3. Lack of Ethics
Lawyers are bound to a code of ethics dictated by the state in which they practice. They are required to:
Loyally represent their clients
Keep their clients' communications confidential
Competently represent their clients
Follow the law
Place their clients' interests in front of their own
Lawyers that skirt the ethical rules, disclose confidential information, and keep clients' settlements can be disciplined and even disbarred.

4. Lack of Honesty about Fees
Lawyers should be open and honest about their fees. A few common complaints are:
The bill is not was agreed upon
The client was charged for additional fees that were not discussed
The bill is not itemized and the client has no clue what the attorney has charged them for
The client paid a large fee but knows the paralegal did most of the work
The client knows the bill is padded and time spent on tasks is exaggerated
You should agree upon the fee early on in the attorney-client relationship. Additionally, your attorney should be open to discussing questions you have about their fee structure or billing.


You Deserve A Lawyer Who Listens, Cares, & Knows What They're Doing
If you are in need of a qualified, honest, and competent attorney in the Amarillo area, contact Adair M. Buckner, Attorney at Law. To schedule a free consultation* to discuss your legal matter, call 806.220.0150 or email Adair at
adair@adairbuckner.com
.

When researching lawyers, it's critical you choose one you can trust. Download our FREE white paper, 5 Tips For Finding A Lawyer You Can Trust.

*(The free consultation does not cover actual review of documents or giving legal advice on a specific situation.)
TESTIMONIALS
It was way past time to finally get our Wills completed. This was something that was extremely complicated for us, but Adair and her assistant never made us feel like we were bothering them...and we (I) bothered them...a lot! Things were explained to us in a way that we could understand easily. Extremely professional and knows her stuff!
I needed an attorney I could trust who could handle my legal concerns regarding my mother's Living Trust. Adair Buckner firmly set things right. She was my voice when I had none and knew how to protect me in the midst of negative chaos. I recommend Adair to anyone seeking justice.
When my husband passed away, I contacted the attorney that we had used to prepare our wills but was unhappy with his attitude of indifference. I discovered Adair Buckner and all of my issues were resolved. Adair is professional, compassionate, and extremely knowledgeable. She saved me a large amount of money by processing my will in the appropriate manner to best suit my situation.
We appreciate Adair Buckner's professional and personable service. Our legal needs were met promptly and succinctly. We would not hesitate (and do!) recommend her to our family and friends.
Adair is very professional. She cares about her clients and explains everything very well. She makes you feel like a friend.
Mrs. Buckner did a full estate plan for me. Her work was excellent, her communication was great, and the price was reasonable. I would highly recommend her for your estate planning needs.
Trying to get our LLC changed over after moving to Texas was complicated, but Adair Buckner made the process so simple! We just gave her the details, and she handled everything quickly and professionally. Thank you, Adair, for making this part of our move stress-free!
Losing my Mother and being appointed as Executor of her estate was overwhelming. Adair was very professional and personable. She handled and processed the estate with ease and kindness.