Free Legal Resources For Probate, Estate Planning, & Guardianships
Probate, estate planning, and guardianships are very complex and often emotional legal processes. Fortunately, you don't have to try to work through them on your own. Below, you will find flow charts, questionnaires, and digital guides you can use to better understand these complicated legal proceedings and go through them successfully with the support of a trusted attorney.
Request a Consultation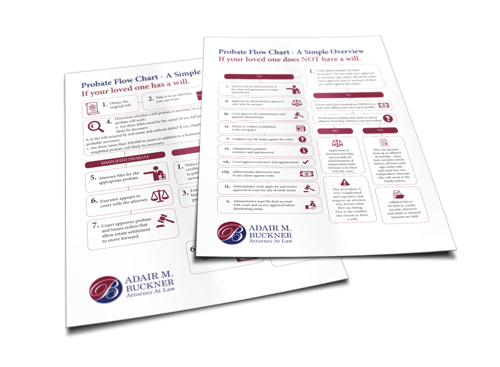 Probate Flow Chart
The probate process can be overwhelming. Fortunately, competent attorneys are available to guide you through it.
This simple overview breaks down the steps you will need to take to complete the probate process if your loved one did or did not have a Will.
7 Questions To Ask Your Family About Their Estate Planning
These 7 questions will help start the conversation about estate planning with your loved ones.
FAQs On Probate
Do you have questions about the probate process? In this guide, Adair Buckner shares answers to the questions clients often ask regarding probate.
Advance Planning Tools To Avoid Probate
Sometimes, you can skip the complex probate process entirely, if you utilize these tools. Download this infographic to learn more.
3 Key Estate Planning Considerations
If you are planning on meeting with a lawyer to discuss estate planning, make sure you have thought through these three considerations.
5 Tips On Finding A Lawyer You Can Trust
With so many lawyers out there, it's difficult to know which is the right one for you. Here are five things to consider when choosing an attorney to represent you.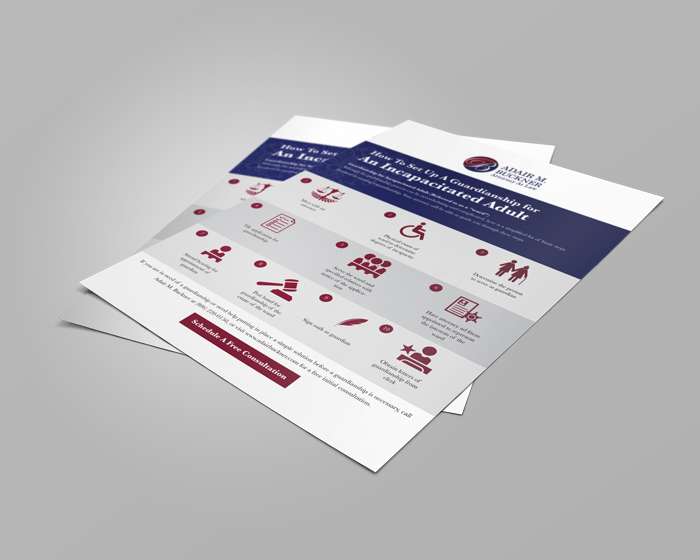 Step-by-Step Guardianship Guide
A guardianship is sometimes necessary if the parents of minor children are no longer able to care for them by reason of death or incapacity.
Also, if a loved one failed to draw up powers of attorney and is no longer able to manage his or her own affairs, a guardianship is sometimes necessary.
This infographic guides you through the guardianship process for a minor or an incapacitated adult.

10 Things To Think About Before Setting Up A Living Trust
There are many things to consider prior to meeting with an attorney to set up a living trust. In this questionnaire, you will find some of the most important information you'll need to know in order to create a living trust that protects your assets and best interests.

Estate Planning Questionnaire For Single Individuals
This form walks you through the information your attorney will need to help you with your estate planning if you are single.
Estate Planning Questionnaire For Married Individuals
This form walks you through the information your attorney will need to help you with your estate planning if you are married.
5 Essential Estate Planning Basics For Same Sex Couples & LGBTQ Individuals
In this slideshow, you'll learn the 5 steps every LGBTQ individual needs to take for estate planning.
Other Questions To Ensure Your Estate Planning Documents Are Up to Date
If you have already gone through the estate planning process, these steps will help you periodically review your documents to ensure they stay up to date.
Do You Still Have Questions About Probate, Estate Planning, Or Guardianship?
Visit Adair's legal blog to learn more about each of these processes, how much they typically cost, the steps you need to take to complete them, and low-cost alternatives. Click the button below to read additional articles on these topics and to subscribe for instant updates each time we post a new blog.