It's Not Too Late For A 'Postnup' Agreement
Your wedding day has come and gone, and you never got around to drawing up that prenup agreement.


There is good news. If you and your spouse can agree on the parameters, it's not too late to outline how your property will be classified, as community or separate, how your joint finances will be handled, and support for children from prior marriages —even if you're already married.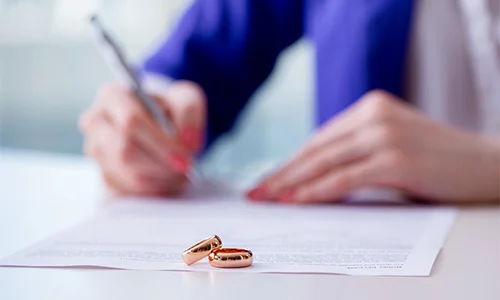 You can still accomplish this through a postnup agreement.


The sooner you create a postnup after the marriage, the easier it is. However, a postnup agreement can be done at any time, regardless of how long you have been married.


A postnup agreement even can be a tool in an estate plan to clearly delineate each spouse's separate property if the plan for distribution of that separate property is different from the rest of the estate plan.
When To Consider Drafting A Postnup
Like for a prenup agreement, these situations prompt consideration of a postnup:


If one or both spouses came into the marriage with significant separate property
If there are children by a prior marriage
If one of the spouses has special needs that should be provided for
If the spouses simply want to set out a plan for how their property acquired and income earned during the marriage are to be classified
If the spouses want to agree upon what happens to property if there is a divorce or upon the death of either spouse


A postnup is certainly a good way to deal with these issues.


Key Points To Consider When Creating A Postnup Agreement
Just like in a prenup agreement, issues to think about covering in the agreement include:


Whether income from separate property should also be classified as separate property, rather than as community property as Texas law would otherwise require
Whether what would otherwise be community property in Texas, such as earnings or other sources of income, should be classified as the separate property of the spouse generating that income
Which spouse has the power to manage certain assets of the marriage, either separate or community property
Whether one spouse's separate property and the income from it should be used to pay any community expenses and, if so, defining those expenses
Rights of a surviving spouse to continue living in a separate property residence following the death of owner spouse
Waiver of inheritance rights by a surviving spouse to any part of the other spouse's estate
Provisions for an agreed-upon division of assets in the event of divorce or death


Requirements For A Valid Postnup
Each party must make full disclosure of his or her assets, and it is advisable for each party to have his or her own attorney review, advise about the terms, and approve the postnup. Partitioning community property into separate shares to be owned going forward as each spouse's separate property may also be required.


If you would like to learn more about prenups and postnups, and whether or not one would be beneficial to you, check out this blog and contact Adair M. Buckner for a free initial consultation*.
*(The free consultation does not cover actual review of documents or giving legal advice on a specific situation.)

TESTIMONIALS
It was way past time to finally get our Wills completed. This was something that was extremely complicated for us, but Adair and her assistant never made us feel like we were bothering them...and we (I) bothered them...a lot! Things were explained to us in a way that we could understand easily. Extremely professional and knows her stuff!
I needed an attorney I could trust who could handle my legal concerns regarding my mother's Living Trust. Adair Buckner firmly set things right. She was my voice when I had none and knew how to protect me in the midst of negative chaos. I recommend Adair to anyone seeking justice.
When my husband passed away, I contacted the attorney that we had used to prepare our wills but was unhappy with his attitude of indifference. I discovered Adair Buckner and all of my issues were resolved. Adair is professional, compassionate, and extremely knowledgeable. She saved me a large amount of money by processing my will in the appropriate manner to best suit my situation.
We appreciate Adair Buckner's professional and personable service. Our legal needs were met promptly and succinctly. We would not hesitate (and do!) recommend her to our family and friends.
Adair is very professional. She cares about her clients and explains everything very well. She makes you feel like a friend.
Mrs. Buckner did a full estate plan for me. Her work was excellent, her communication was great, and the price was reasonable. I would highly recommend her for your estate planning needs.
Trying to get our LLC changed over after moving to Texas was complicated, but Adair Buckner made the process so simple! We just gave her the details, and she handled everything quickly and professionally. Thank you, Adair, for making this part of our move stress-free!
Losing my Mother and being appointed as Executor of her estate was overwhelming. Adair was very professional and personable. She handled and processed the estate with ease and kindness.