What Is The Legal Process To Divide An Estate If There Is No Will?
Families frequently come to me needing to know how to figure out who gets what when a loved one dies without a will. Unfortunately, the answer is that they may be in for a lot of expense and time in a very complicated legal proceeding.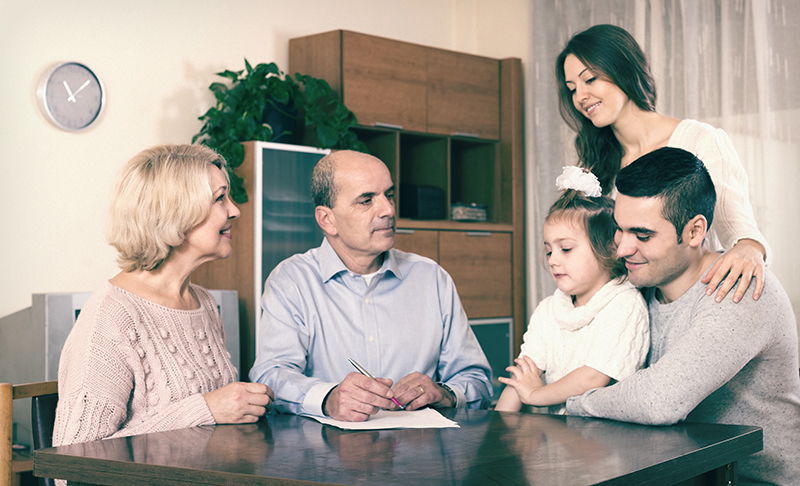 The legal process to spell out who are the heirs and what each of them is entitled to receive from the estate is called an Application For Determination Of Heirship (Application) or the more simple process Affidavit Of Heirship.
Informal Affidavit Of Heirship
Sometimes, if the estate is fairly simple and the family situation is straight forward, third parties will accept a more informal process in which court action is not necessary. The heirs can set out in an affidavit (sworn written document) the family history that supports their right to inherit. They will also have to provide two additional independent witnesses who verify those facts.
Many times, however, third parties will require the more formal court action of Application For Determination Of Heirship before agreeing to distribute assets.
Application For Determination Of Heirship
The court action in an Application requires the same information from the likely heirs of the deceased, the family history that supports inheritance rights under the Texas laws of intestacy (where a person dies without a will). Again, this information must be verified under oath and filed with the court. The applicant must also provide one or two independent witnesses to the facts. After the application has been filed, service of citation or a waiver of citation must be obtained for each heir. In a recent case I handled, there were 28 heirs, spread all over the world, and it took over 6 months to even identify and locate them all.
Attorney Ad Litem Appointment
A funny quirk of this procedure is that even though the family likely knows exactly who should be the heirs by law, the Texas Estates Code requires that an attorney ad litem be appointed to represent the interests of potential unknown heirs. That attorney then must question the heirs and independent witnesses. The attorney then reports to the court that he or she believes there are in fact no other heirs not named in the Application. This adds significant expense to the proceeding, as the attorney ad litem must be paid for his or her time spent.
Publication To Unknown Heirs
In addition, the applicant must have the court clerk publish a notice in the newspaper where the deceased lived, alerting potential unknown heirs that the application for the deceased has been filed. Then, if someone believes they are an heir, they must come forward and file a claim with the court. This again is an additional expense to the proceeding and the majority of the time yields no other heirs. This seems like a useless requirement because potential unknown heirs are not likely to live in the same city as the deceased, or to read the newspaper there.
Final Hearing And Order Determining Heirship
After all these steps have been taken and the attorney ad litem is satisfied that all heirs are before the court, a hearing will be held. The court will issue an order setting out the names, addresses, relationship to the deceased, and fractional interest legally belonging to each of the heirs. This order then serves as notice to third parties on how assets should be distributed. This would seem to be the logical end, but sometimes, third parties may also require that the court has appointed an administrator to deal with them on behalf of the whole group of heirs rather than dealing with each heir individually. If that happens, the Application has to be paired with a request for administration of the estate as well. This adds all of the complexity and expense which is normally involved in any estate administration, in addition to the cost of the Determination Of Heirship.
Next Steps
If you are in a situation where a loved one has passed away without a will, sadly, these are the steps you will need to go through. This points out the importance of doing estate planning before its too late.
If you would like to discuss either a determination of heirship for a deceased loved one (or if you still have time, their or your estate planning), please contact Adair M. Buckner for a free initial consultation*.
*(The free consultation does not cover actual review of documents or giving legal advice on a specific situation.)
TESTIMONIALS
I needed an attorney I could trust who could handle my legal concerns regarding my mother's Living Trust. Adair Buckner firmly set things right. She was my voice when I had none and knew how to protect me in the midst of negative chaos. I recommend Adair to anyone seeking justice.
It was way past time to finally get our Wills completed. This was something that was extremely complicated for us, but Adair and her assistant never made us feel like we were bothering them...and we (I) bothered them...a lot! Things were explained to us in a way that we could understand easily. Extremely professional and knows her stuff!
When my husband passed away, I contacted the attorney that we had used to prepare our wills but was unhappy with his attitude of indifference. I discovered Adair Buckner and all of my issues were resolved. Adair is professional, compassionate, and extremely knowledgeable. She saved me a large amount of money by processing my will in the appropriate manner to best suit my situation.
Adair Buckner has provided me with her excellent expertise in finalizing the sale of a buy/sell agreement and preparation of my Last Will & Testament. Adair efficiently applies her knowledge to your specific needs. I highly recommend her.
Losing my Mother and being appointed as Executor of her estate was overwhelming. Adair was very professional and personable. She handled and processed the estate with ease and kindness.
Adair drew up a beautiful power of attorney and Will for my father in a timely manner. I highly recommend that you use her. She's a wonderful lady.
Trying to get our LLC changed over after moving to Texas was complicated, but Adair Buckner made the process so simple! We just gave her the details, and she handled everything quickly and professionally. Thank you, Adair, for making this part of our move stress-free!
Mrs. Buckner did a full estate plan for me. Her work was excellent, her communication was great, and the price was reasonable. I would highly recommend her for your estate planning needs.
We appreciate Adair Buckner's professional and personable service. Our legal needs were met promptly and succinctly. We would not hesitate (and do!) recommend her to our family and friends.
This was as painless as it gets to hire an attorney in Amarillo Texas. Handled all the estate needs and never had to appear in court. You won't find any better and I use Attorneys quite often in my line of work.